We Will Tell you Hanssem's various news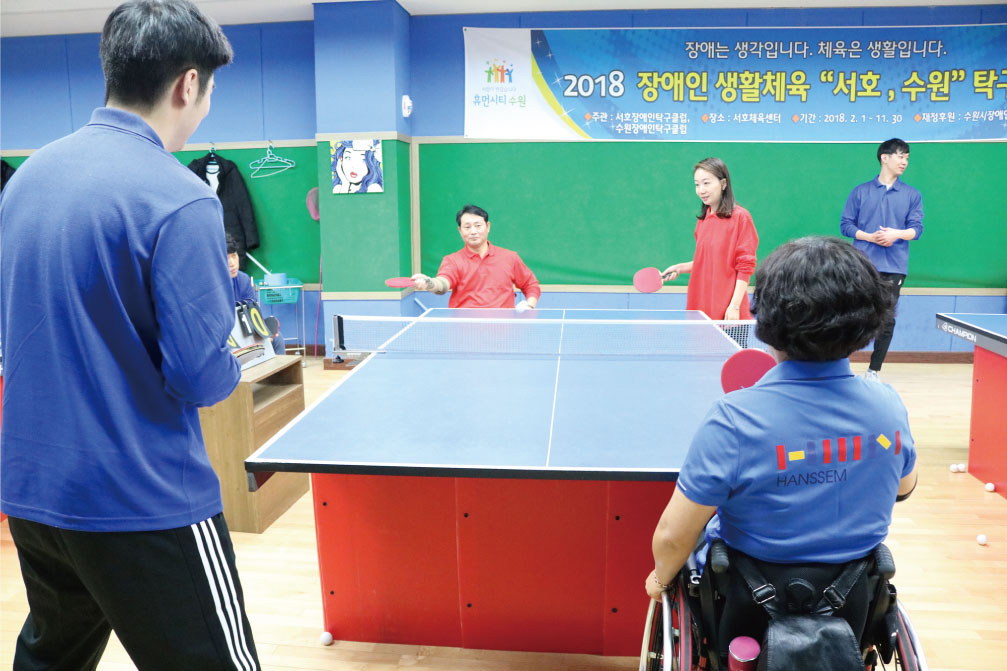 On the 5
th
of this month, Hanssem (Representative Director Choi, Yang-ha),
a corporation specializing in the general, home interior, had proceeded with 'The 2
nd
Eoullim Athletic Meet' together with the 32 persons in the disabled team and the over 40
members of the management and the staff who belong to it at the Seoho Sports Center in Suwon.
The meet this time, which had been held for the second time after the one in the past April,
had been planned to solve the biases regarding the disabled and for the communication and the harmony between the members of the management and the staff.
At the meet on this day, the disabled tennis, bowling, and table tennis athletic teams and the management and the staff belonging to Hanssem formed the teams and
had been engaged in the matches together.
And, after the matches,
there had been a place, too, for congratulating and encouraging the staff members of the disabled sports teams who had achieved the excellent accomplishments
in the 2018 Indonesia Asian Para Games and the National Sports Festival.
By concluding the contracts with the 32 amateur table tennis, tennis,
and bowling athletes who belong to the Gyeonggi-do Disabled Athletic Association in the past October 2016,
Hanssem has been managing them for two years. By signing the contracts with Hanssem, the athletes have been achieving the good results
by striving with the training in the environment in which the financial burden has been alleviated. Especially, by accomplishing the splendid feat of wearing the
gold medal around the neck in the wheelchair tennis quad singles and the silver medal around the neck in the doubles in the 2018 Indonesia Asian Para Games in the past October,
the athlete Kim, Gyoo-seong had played a part in enhancing the national prestige.
Chung, Jae-cheol, the Head of the Hanssem Sports Team conveyed his impression by saying,
"I had been able to concentrate only on the training through the support by Hanssem. Because I had been able to communicate with the management and staff through the
Eoullim Athletic Meet this time, it had been a happy time."
The Manager Yang, Dong-seok of the External Cooperation Office,
who had participated in the event, said, "Because I could be together with the disabled athletes regarding whom I did not have the opportunity
to meet them at ordinary times even though they are the staff members of the same company, it had been a time during which both my mind and my body had been happy."
Director Kim, Tae-wook, who is the Head of the Personnel Affairs Department of Hanssem said,
"By invigorating the Eoullim Athletic Meet, in which all of the management and staff who are the disabled and not-disabled can be together into a representative,
annual event of Hanssem, Hanssem will lead in correcting the prejudices and the negative awareness regarding the disabled, which have been rampant in our society."