We Will Tell you Hanssem's various news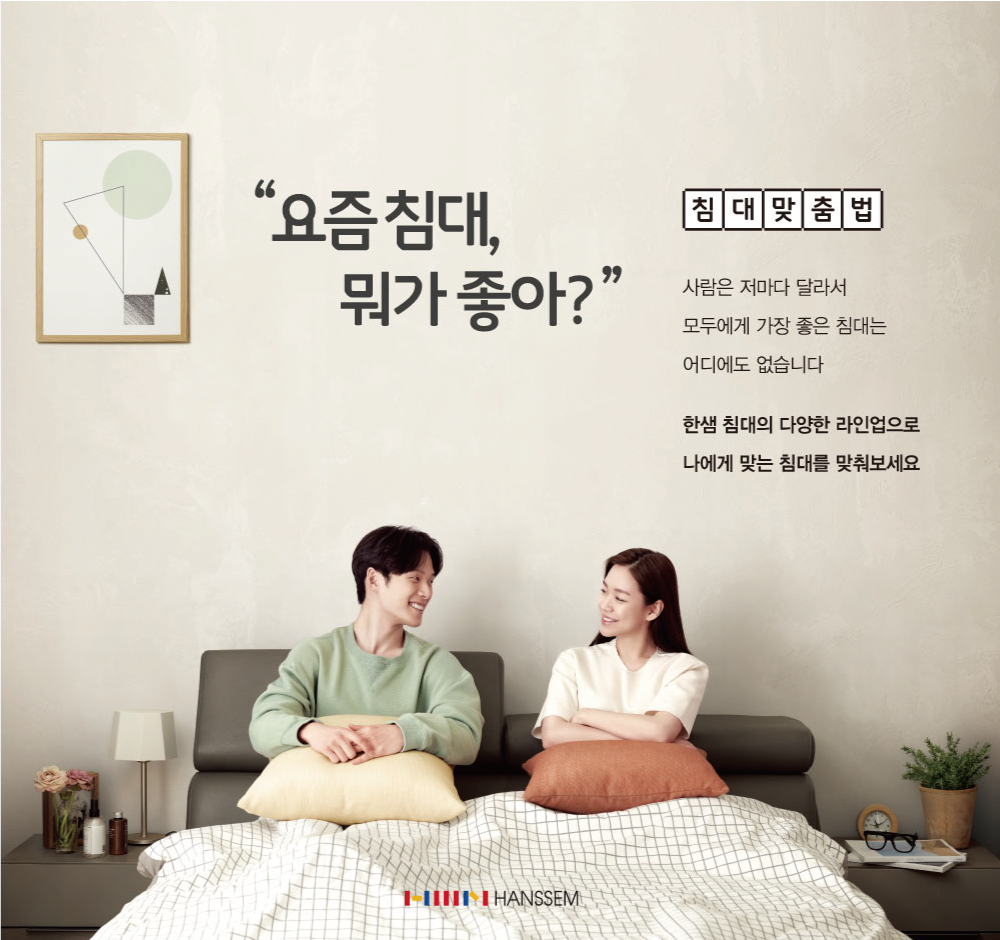 The Comprehensive home interior specializing company Hanssem Co. Ltd.,
(www.hanssem.com CEO Choi Yang-Ha), has started the 'Custom-Bed' campaign that suggests how to properly select beds, and will start advertising from the 13th.
This campaign was made in the process of finding the answer to the question: "What bed is good nowadays"? Everyone has different sleeping habits, which means there isn't a bed that is good for everybody.
Hanssem, who has a wide variety of bed and mattress line-ups, suggests a custom-made bed through the message: "Let's look for a bed that best suits me at Hanssem.
" The campaign shows various and different types of beds that matches accordingly to the type of your preference,
such as couples who sleep with their young child, a married couple who have different life patterns,
a couple who desires to decorate the bedroom like a hotel's twin bed,
people who like to sleep on hard floors, people who like to do various activities on the bed other than sleeping and more.
Especially in this ad,
real couples that used the Hanssem bed have been the model of which has raised the reality. At the time of their marriage,
they used to have a modern bedroom by having the 'Luna White Bed', but now the family of three have changed to the 'Steady Family Bed'.
The various beds showed inside the advertisement can be checked directly at the 9 flags shops and other franchise stores.
At the store, you can choose the bed that fits you perfectly through a 1-on-1 consultation with a professional salesperson while being able to lie down on the bed.
Furthermore, before going to the store, you can find the best mattress that fits you through the online service 'Algori-Zam' at 'Hansem Interior.com' (interior.hanssem.com). If you enter the desired mattress hardness,
usage pattern, family members and etc. in the algorithm program, it chooses an optimized bed and mattress that is fit for you.
We also have an event that commemorates the start of the advertising.
After testing the Algori-Zam at Hanssem Interior.com, if you share the result on SNS or suggest a custom-bed that fits for you, a total of 4 people will get the mattress that matches for them through a lottery.
The event will continue for one month in March, and the results will be posted on the homepage in April.
Hanssem has said,
"There is no good bed for everybody". All of the features that a person wants for their bed is different, and the criteria for choosing beds with the recent healing trends have become even more meticulous.
I hope Hanssem will find the right bed for me. "
Meanwhile, Hanssem has prepared various events to ease the economic burden for the newlyweds.
If you purchase the 3 types of Hanssem Best Beds (Milo, Moa, and Luna) with a mattress, you will be given one of the following: a desk, an armchair or a shelf. If you buy additionally a wardrobe or a sofa,
you will receive two of the three. In addition, a 'Love-ing Event' will be proceeded to 11 newly-married customers who have bought Hanssem households and will be given one of the following products that are necessary for wedding preparations: wedding ring, washing machine, refrigerator, hotel accommodation and etc. The event will continue until the 31st