We Will Tell you Hanssem's various news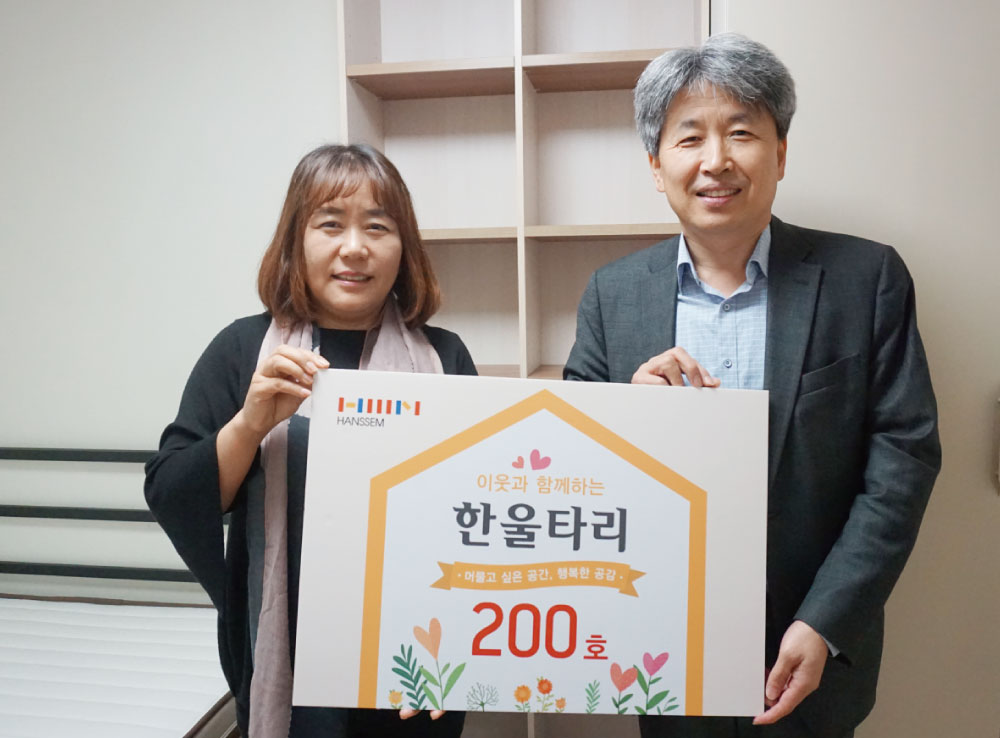 By bringing alive its special characteristic of the corporation of being a corporation specializing in the general, home interior, Hanssem Co.,
Ltd. (Representative Director Choi, Yang-ha, company.hanssem.com) has been proceeding with a project for improving the residential environments of our neighbors who are in need,
it greeted the 200
th
household on October 26.
The subjects for the 200
th
support were the one disabled-parent family residing in Siheung City in Gyeonggi-do.
Hanssem sponsored the desks, the beds, the wardrobes, etc. for the two junior high school sons.
The household head Lee, Yeong-joo (false name) said, "Because raising the kids alone while having a disability had been tough,
I could not have the very thought of changing the furniture. Because my two children can have a desk and a bed, which they had wished for, thanks to Hanssem, I am really delighted and thankful as the mom."
From the year 2015, with the monthly average of around 5 families and organizations as the subjects,
Hanssem has been proceeding with the project of improving the residential environments. Especially, it gives the presents of the home interior furnitures,
including the kitchens, the closets, the desks, the beds, etc., in the spaces in which the children who are the future hopes of our society reside, including the one-parent families,
the local children's centers (the common life families), the multicultural families, the families with a child with an incurable disease, etc.
Not only the furniture sponsorships, of course, but, also,
by having the management and the staff directly participate in the construction and the organization, they have been personally putting into practice the love for the neighbors.
Other than the participation in the project for improving the residential environments, the relative weight of the management and staff who had participated in the diverse, social contribution activities,
including making the goods for the use by the children with the incurable diseases, planting the trees, etc., has increased by up to 73% this year compared to the previous year.
President Lee, Yeong-shik of Hanssem said,
"To fit the mission of contributing to the development of the mankind through the project for improving the residential environments,
Hanssem will continue to proceed with the work of taking care of the nests of our neighbors who are in need. Other than this, through the diverse social contribution activities,
we will grow to become a corporation that receives the love from the customers."