We Will Tell you Hanssem's various news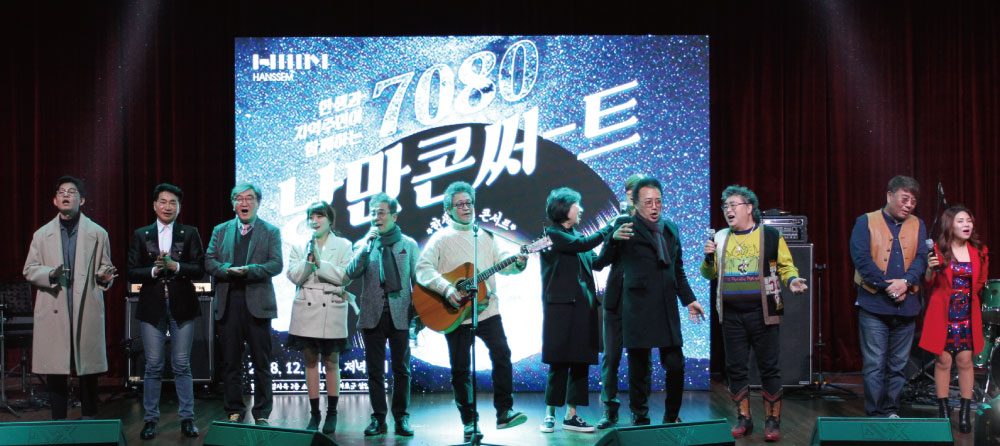 The '7080 Romance Concert', which had been held by Hanssem Co.,
Ltd., a corporation specializing in the general, home interior, in order to contribute to the cultural development of the community,
was successfully finished at the Sangam Company Building in Mapo-gu on the past 21
st
.
The concert this time had been proceeded with the actor Hyeon-seok and the singer
Yeon-jeong as the emcees. And the audience had fully filled the 400 seats in the auditorium of the Hanssem company building.
The singers who can reminisce the 7080, including the Seoul Family, the Travel Sketch, the Memories, the April and May, the Janggu Nanta,
Yeon-jeong, etc., the tenor Park, Hyeon-joon, the inside-the-company band of Hanssem, and the magician Mr. Kim, Cheong went up to the stage and had introduced the songs
of the memories of the 7080 generation live for around 120 minutes.
To commemorate the 1
st
year anniversary of moving into the Sangam company building of Hanssem,
a lot of the audience had prepared a deeply meaningful place with the singers of the memories. And, with the people of the region participating together,
it had been favorably commended that the emotions of the 7080 generation had been drawn.
Especially, regarding the songs,
including the singer Chung, Hyeon-seok's 'You and I' and 'The Middle Age', the Travel Sketch's 'The Star is Falling' and 'Isn't Living So?', etc.,
with the audience singing along with the songs, the stage and the auditorium had achieved the harmony.
President Lee, Yeong-shik of Hanssem conveyed,
'I sincerely thank the customers who are participating in the cultural event which is hosted by Hanssem to greet the 1
st
year anniversary
of the Sangam company building and the end of the year. Through the diverse, cultural events, we will frequently make the opportunities through which we
can communicate with the people of the region, the customers, etc. And we will endeavor to become a company that is loved by the customers and the staff members."
The National Assemblyman Sohn, Hye-won (Democratic Part, Seoul Mapo Eul),
who had participated in the event on this day said, "I thank Hanssem, which has been unfolding the many activities for the women, the elderly,
and the weak, for hosting the deeply meaningful event in the region this time, too. In the new year, too, through the legislative activities of taking care of the vulnerable class of the society,
I will repay for the intentions of the citizens."
On this day, to all of the members of the audience, the daily supplies of Hanssem had been presented as the presents. An
d it is planned that, through the event, the diverse presents, including the hot-air, tableware drier, the induction, etc., will be additionally presented to a total of 56 persons.