We Will Tell you Hanssem's various news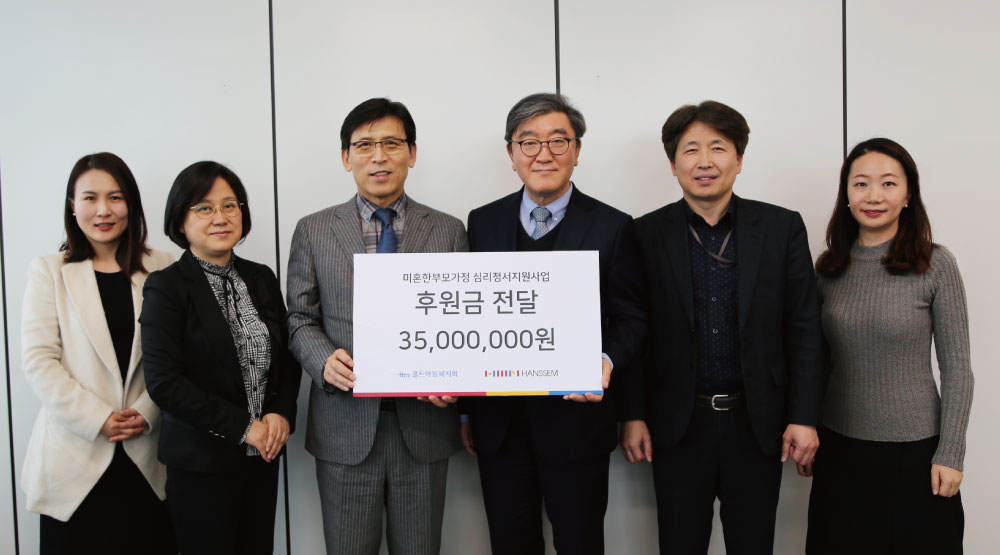 On the 19
th
,
Hanssem (Representative Director Choi, Yang-ha), a corporation specializing in the general,
home interior,
held a ceremony for delivering the sponsorship money to the psychological emotion supporting project regarding the one-parent families at the Sangam company building in Mapo-gu.
The sponsorship money of 35 million won that was delivered on this day will be used as the operational costs of the Unmarried,
One-parent Support Center that is managed by the Holt Children's Services Inc. (Chairman Kim, Ho-hyeon) and of the self-help group of the Daejeon
Clover of the Unmarried Mother and Son Family Welfare Facility.
The self-help group is a group in which the people who experience the same difficulty gather,
in which the experiences and the emotions of each other are shared, which supports the solution, and which strengthen the will to live.
The Unmarried, One-parent Support Center self-help group is an activity which is engaged in by the one-parent mothers and the children together.
It is scheduled that around over 100 families will participate in this one year,
and, by publicly inviting by turn, the one-parent mothers and the children proceed with the cultural experiences,
including watching the musicals, the outings to the ancient palaces, etc., together.
It is planned that the sponsorship money will be used for the art therapy costs of the one-parent mothers of the Daejeon Clover self-help group and,
also, for publishing the fairy tale books that contain the stories of the one-parent mothers.
President Lee, Yeong-shik of Hanssem, who attended the delivery ceremony,
conveyed the thought by saying, "I hope that it will become an opportunity for the one-parent mothers to confess the difficulties with a comfortable mind and to obtain the strength
for standing up again by possessing the psychological sense of security through the time in which they can sympathize with each other."
Other than these,
Hanssem has been proceeding with the social contribution activities for the one-parent families, i
ncluding the improvement of the residential environments of the one-parent families, the support for the job training costs for the life security, etc.
The management and staff, too,
have been supporting the urgent rearing costs of the one-parent families through the agreed donations and have been putting into practice the sharing by participating in the volunteer service activities at the communal life supporting-type,
family welfare facilities for the unmarried mothers and sons every month.